We went from drinking a couple beers at Blue Moon Bar & Grill in Madison, WI to cracking open Guinesses at Gus O'Connor's Pub in Doolin, Ireland. These two became fast friends of mine, and I feel so lucky to have been invited along to document their Ireland elopement. The entire trip spent driving along the Wild Atlantic Way is an adventure I'll never forget, but hands-down the best part of my time across the pond was the day these two said their vows with the Cliffs of Moher as a backdrop.
We grabbed some pints at a pub in town to get some jitters out and chat a bit about the plan for the day. There wasn't much of one—hike around at the Cliffs of Moher until they felt ready to say their vows, get hitched, share a Guinness, take photos along the way. It was spontaneous and go-with-the-flow, just as they wanted it to be. After our beers and complimentary Irish coffees courtesy of the pub, we were out the door and on our way to start the hike. It was Kallie and Brian's first time seeing the Cliffs, and just witnessing that was special. Cody and I had gone the day before to find some spots away from the crowds and ended up spending hours taking in the view. But what an experience – to arrive at what feels like the edge of the world, Brian suited up and Kallie in her wedding dress, Ireland taking care of the rest with its moody weather.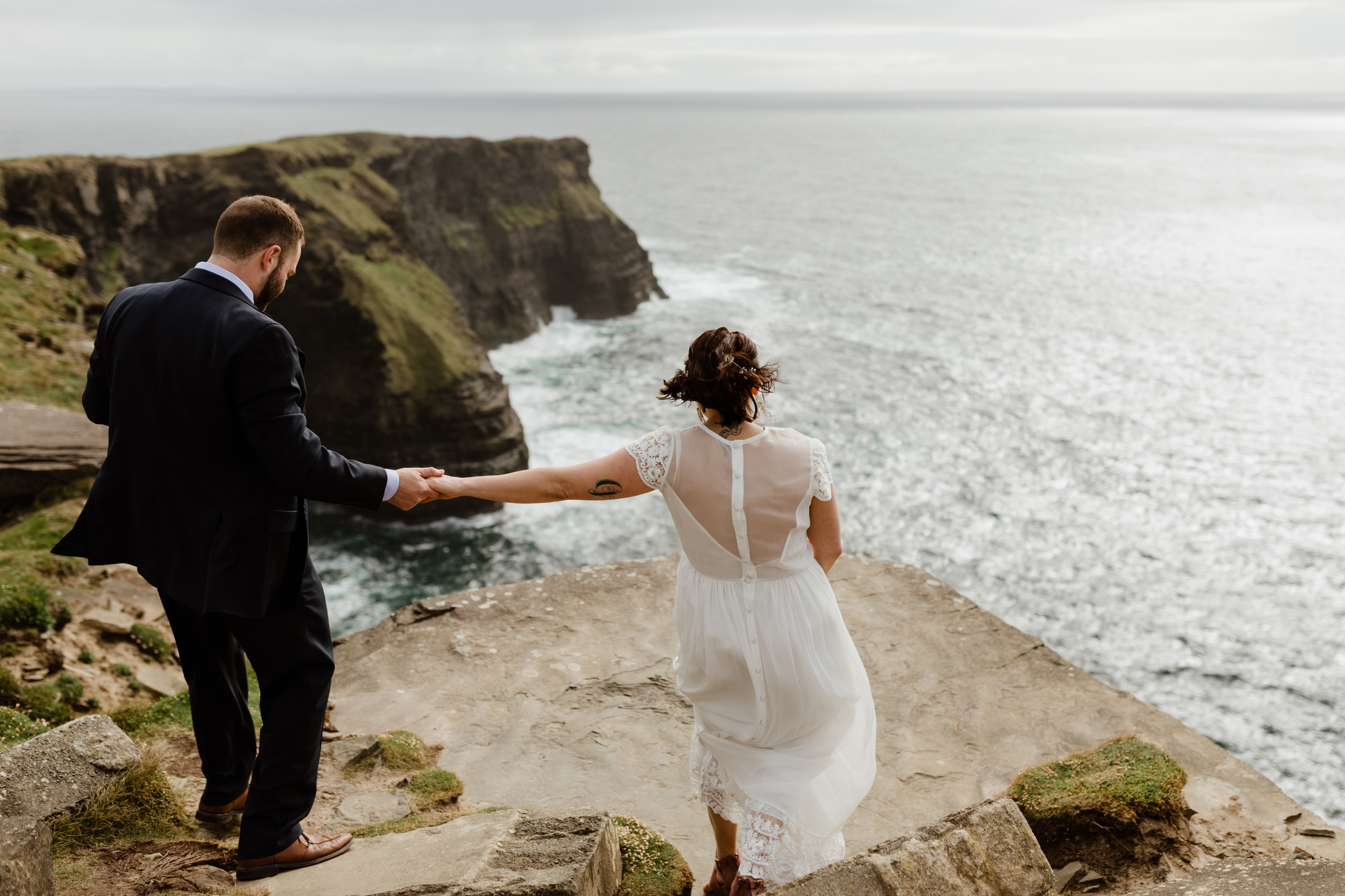 Meandering along the top for a while, Kallie and Brian pulled out their handwritten vows in a spot that felt right, and the tears came. Just the two of them, on a giant cliff by the sea, waves crashing below. I understood it fully in that moment—this whole idea of eloping. Don't get me wrong, I liked the idea before, but I never truly got what it was about until witnessing Kallie and Brian hand-in-hand committing their lives to each other without a soul in sight. Unlike a traditional ceremony, there was no hesitation to hug amidst the vows. They took the time to pause, to kiss, and to look out at the cliffs. There was no stifling of emotion or rushing through the words. They let themselves be fully in the moment.
After sealing the deal with a Guinness and laughing their way through some photographs that Brian had printed out and brought from home, we hiked well into the evening. Every 5 minutes or so of walking resulted in a different composition in the landscape and a new perspective of the Cliffs (and usually a change in weather), so it was hard to pull ourselves away.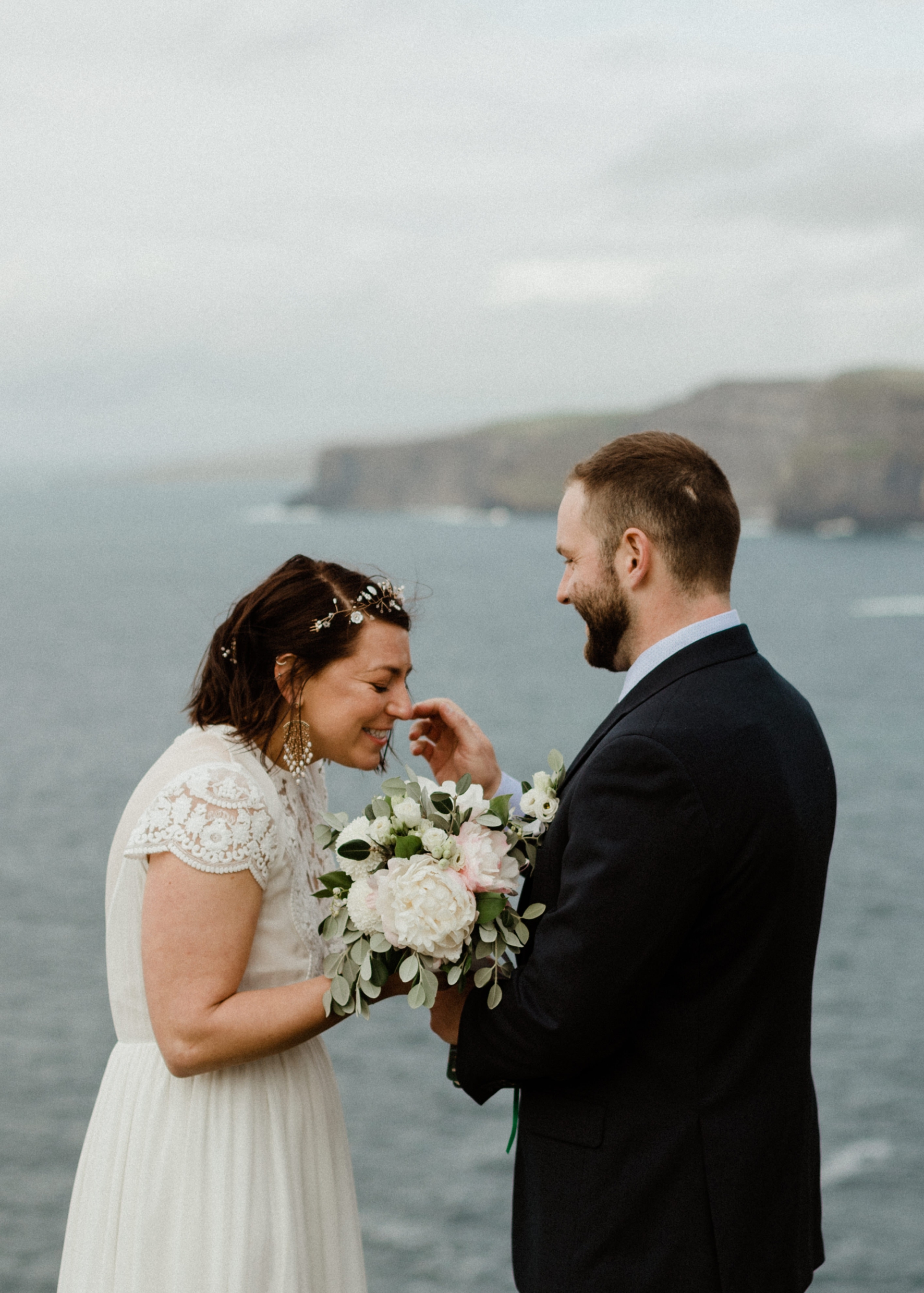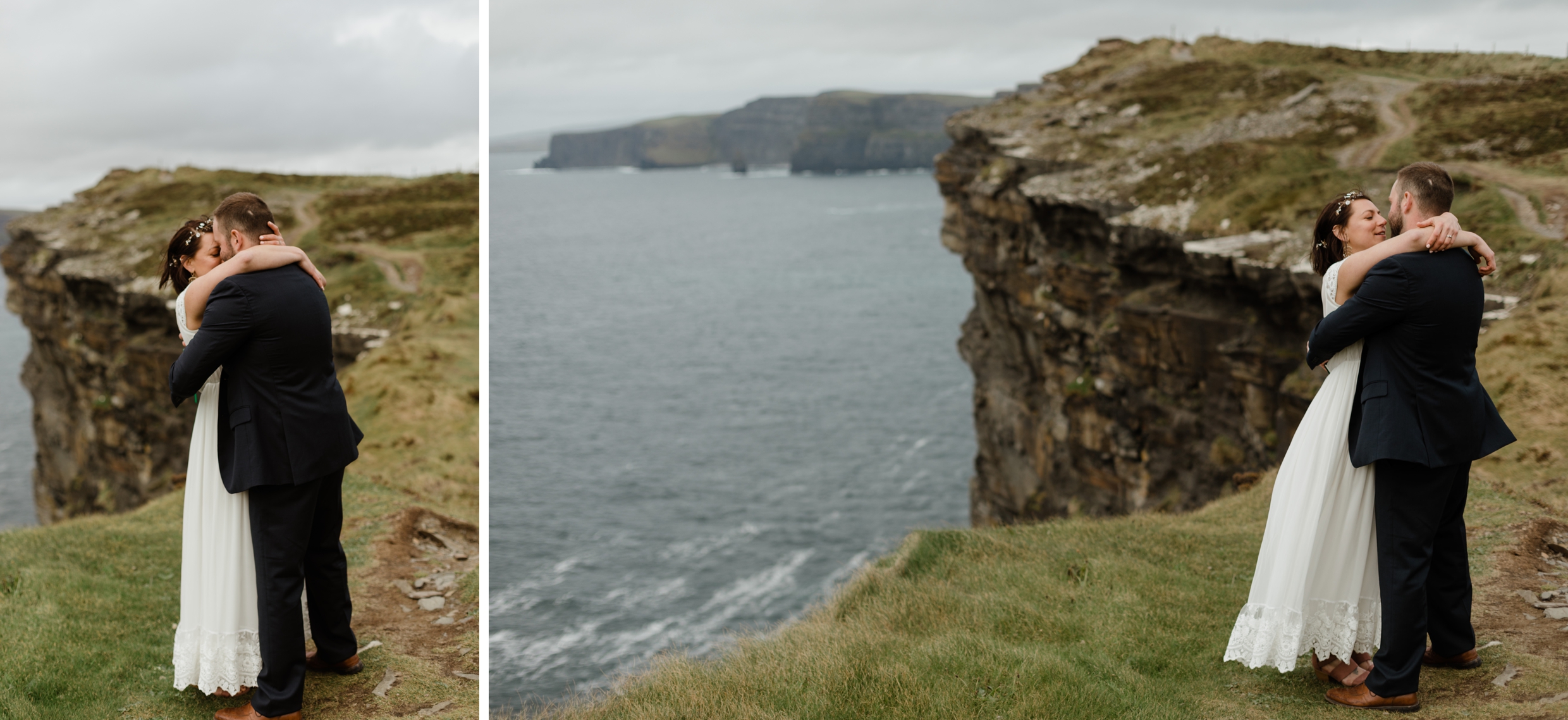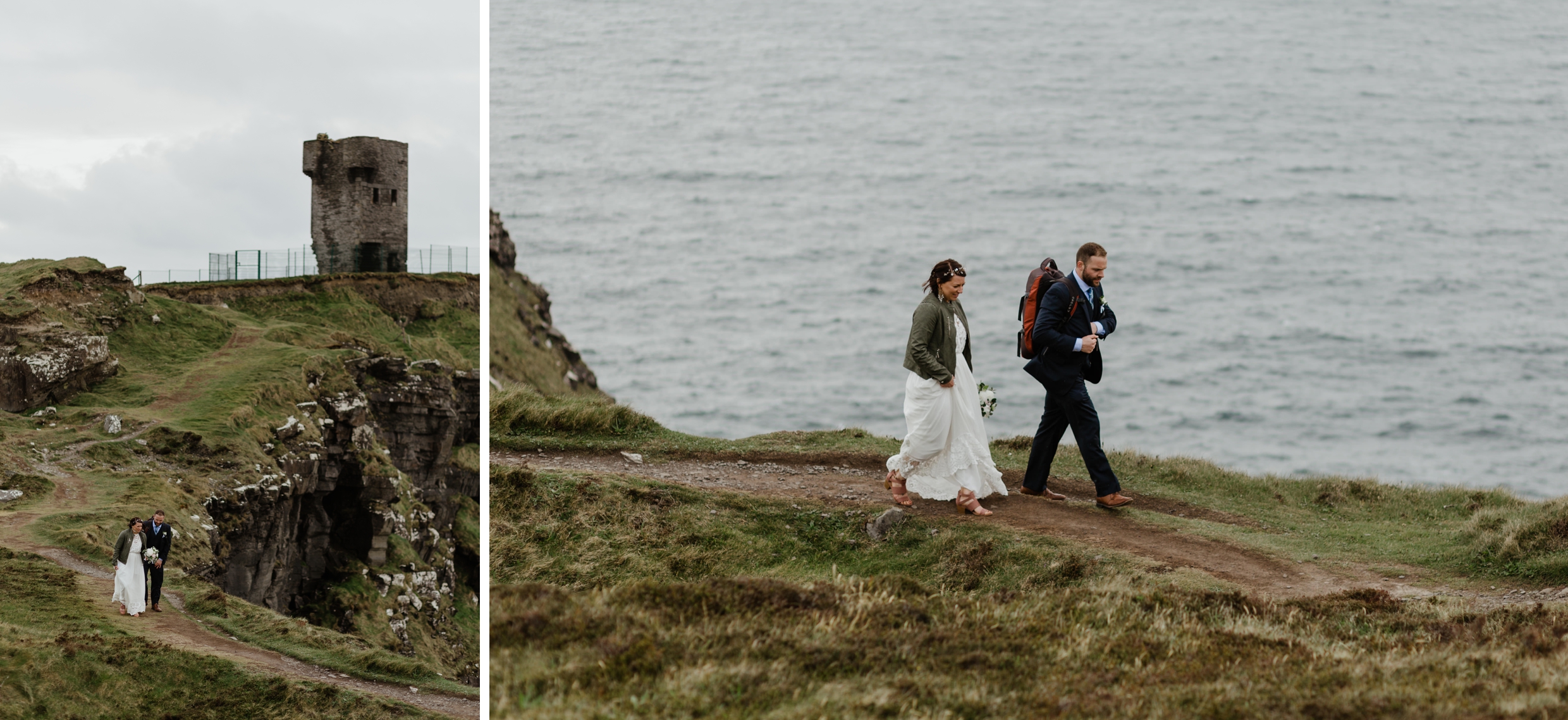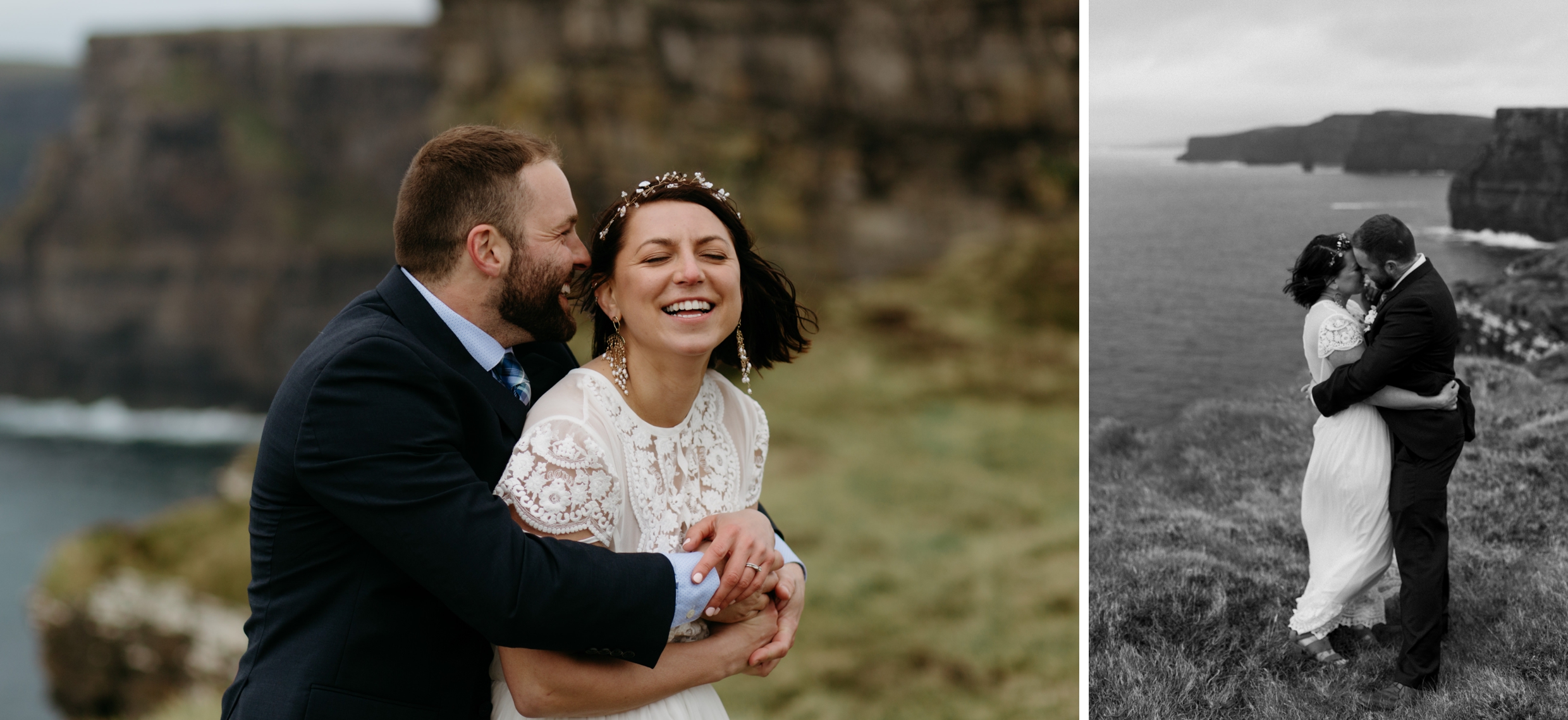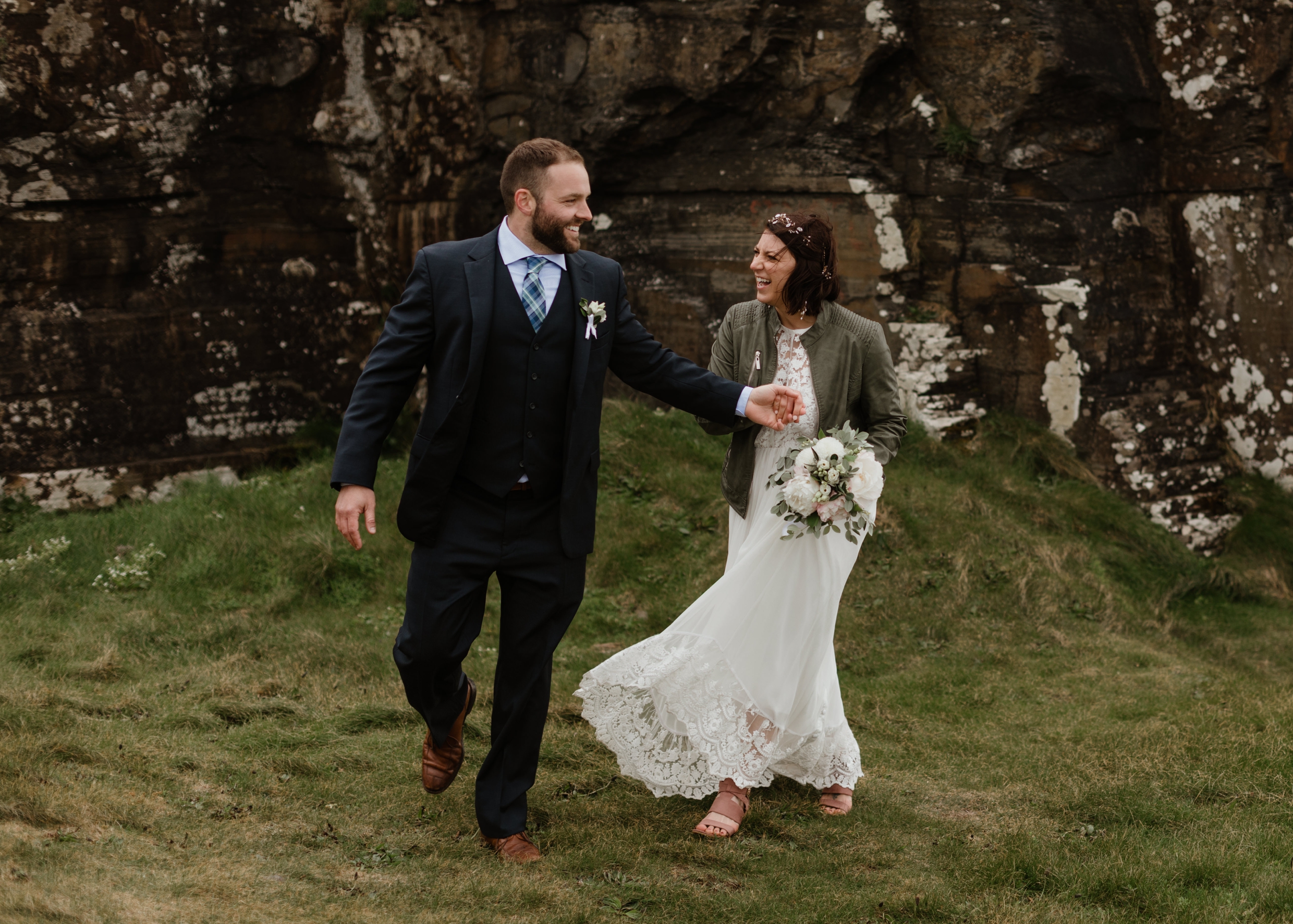 Finally, our stomachs got the best of us, and we found ourselves again at Gus O'Connor's just in time for dinner and live Irish folk music. The place was packed, warm, candlelit. A generous couple gave up their table to Kallie and Brian, so we squeezed in and ordered a round of pints, mash and bangers, fish 'n chips, and the best mussels I may ever eat. The band dedicated an Irish love song to the bride and groom. There wasn't a dry eye.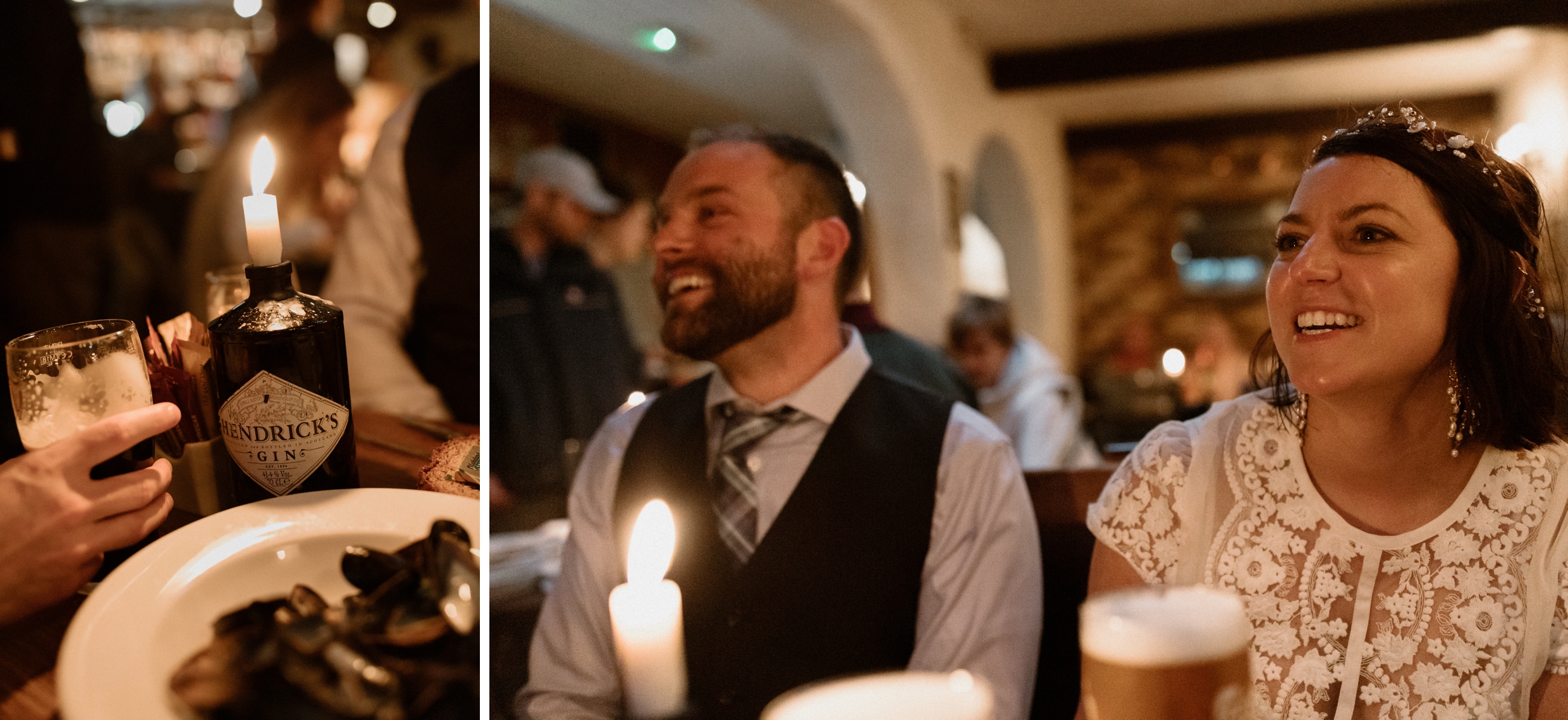 You are the call, I am the answer
You are the wish and I am the way
You the music, I the dancer
You are the night and I am the day
You and I, we're like two rivers
Running round into the sea
When we meet we're lost forever
Lost forever, you and me
Lay your head upon my pillow
Let your heart beat next to mine
There's no past and no tomorrow
Two hearts lost in space and time
You are the call, I am the answer
You are the wish and I am the way
You the music, I the dancer
You are the night and I am the day
—